A lovely atmosphere!

This place has a lovely atmosphere. The owner, Nicolaas, really cares about the guests and Yolanda (the Spanish chef) cooks insanely delicious and nutritious food for a communal dinner. Plus, it's located on the Camino and on a beautiful village plaza.

Ben Kammerling
Our Accommodations
Our Albergue was built in 1850, has a great kitchen/ hang-out and a wonderful terrace to relax, after a day of climbing hills. We value nutritional and delicious food
Our sleeping quarters
5 private rooms (new beds, kingsize or separate, with clean bed linen and towels)
3 dormitories (max 6/9 bunks, clean fitted sheet, pillow case, blanket, towel for rent)
Extra services
Communal dinner & breakfast
Free use of kitchen (until 5pm)
Free WIFI
Musical instruments to play
Washing and drying machines
Hairdryers in bathrooms
Bicycle shed in closed patio (outside)
Luggage transfer
International team – 5 languages: Spanish, English, French, German & Dutch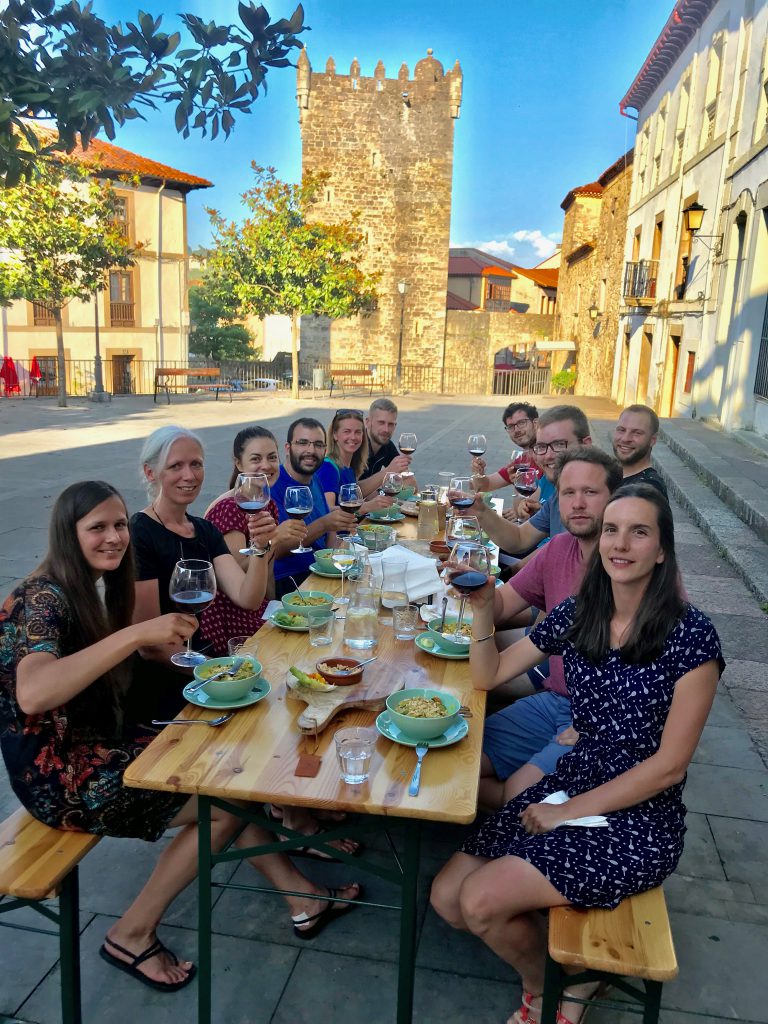 ---
Highly recommended


I stayed in a private room with amazing views of the hills. Beautiful and nicely decorated place with healthy breakfast options. I loved my oat pancakes and fresh orange juice. Also very happy with a 22.00 curfew, as its nice to sleep in peace and quiet.

Ekatarina

Our Vision
It is our passion to provide our pilgrim-guests a personal, relaxed atmosphere, that allows new friendships to be made, healthy food to be enjoyed and a good night's sleep to be guaranteed.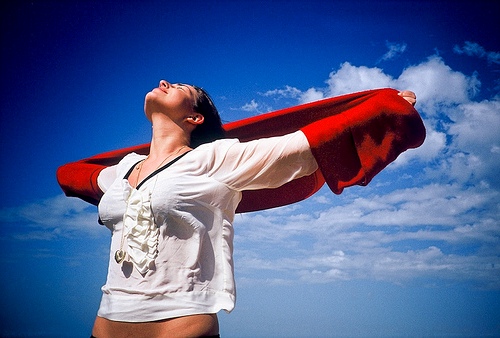 RECHARGE
Get an excellent night's sleep, and enjoy our healthy dinner, energizing breakfast and homemade snacks, based on fresh fruit, nuts & vegetables (vegan friendly!)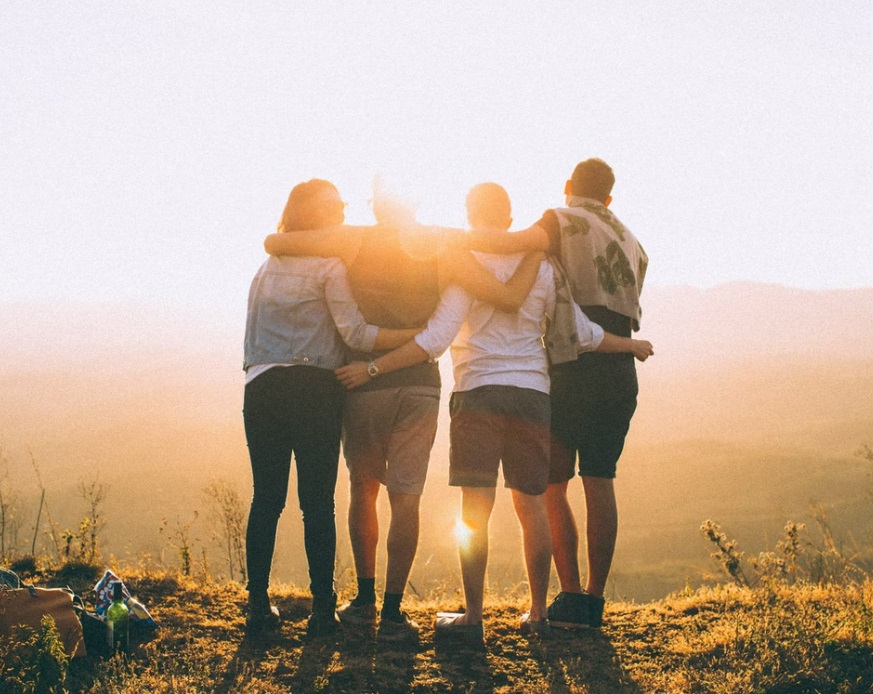 CONNECT
Meet new friends in the albergue, play music together, hang-out on the plaza and join us for our communal meals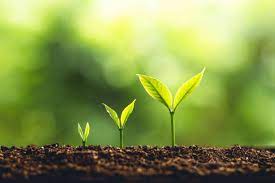 GROW
The Camino de Santiago is a road of reflection, if you will: personal development. We support that process (in a light-hearted way) by means of thought-provoking questions, meditation/ yoga/ singing bowls, massage or plain silence..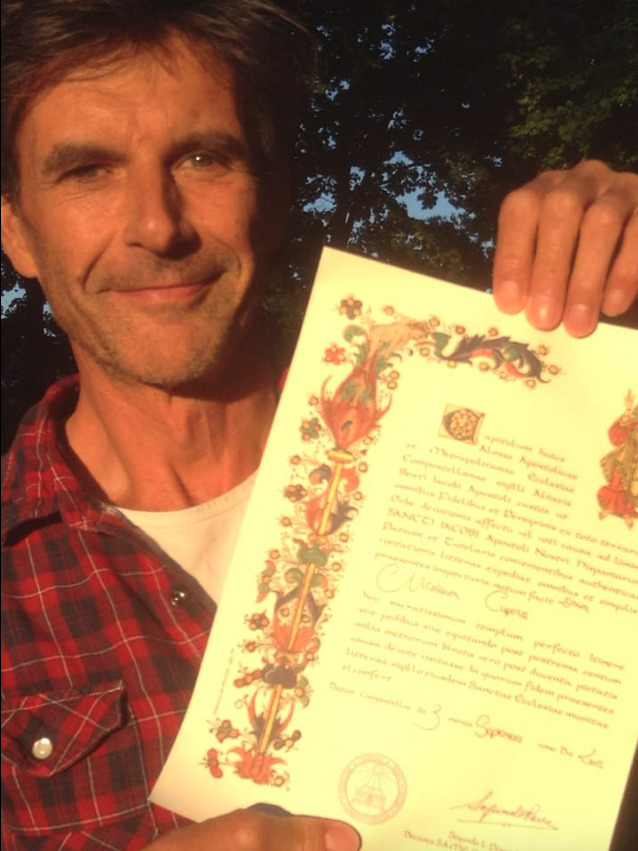 About the Hospitaleros
Nicolaas & the Team
In 2015, Nicolaas left for Spain to walk the Camino Francés. Along the way he found himself drawn to the idea of staying, becoming part of the Camino-energy. After arriving in Santiago he wanted to create a place in which he could express and share what he enjoys in life: live healthy, connect to people easily, inspire and be inspired.
During 3 seasons, on an Amsterdam city-bike, he cycled the Francés, the Norte and the Primitivo, searching for the right location. Seemingly at the end of the search he drove into Salas and in that sweet little village everything fell into place. The albergue had started off as Albergue La Campa, 5 years earlier, being the first one in Salas. In 2018 Nicolaas moved from the Netherlands to Salas, and with the help of countless friends and teams of wonderful hospitaleros started renovating the place into Albergue el Tulipán de Salas.
Ever since the opening in 2018 he has given ex-pilgrims ánd soon-to-be-pilgrims, the opportunity to experience life on the Camino. The Camino Primitivo attracts more than 150.000 people annually and they carry 50-80 kg of stories and experiences. It is interesting and it has a wonderful energy. The team of hospitaleros comes from all corners of the world, loves to give back to the Camino and its pilgrims. Hospitaleros usually stay for one month and each of them has aided immeasurably in developing the albergue's core vision, and especially Yolanda, who has been in the kitchen from the beginning, and regularly receives applause for her dinners.